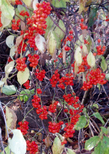 American Bittersweet (Celastrus Scandens)
Native vine used for birding and crafts.  Small greenish-white flowers in June that give way to orange-yellow fruit which open in the autumn to a scarlet seed pod.  Needs both male and female to produce fruit. (It is easier to plant in the same hole).  Ht.: is about 20′-30′.  Likes partial to full sun (fruits best in full sun), and dry to moist soil.


Carolina Moonseed (Cocculus carolinus)
Flowers greenish-white.  Fruits October/November.  Grows 10′-14′ in one season.  Tolerates shade or sun.  Adaptable to most soils.  Zones 6-9.